GPs 'complacent' over HIV risk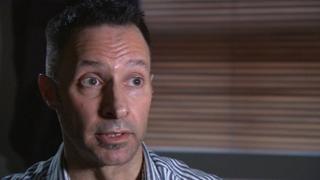 Complacency by doctors is leading to late diagnosis of HIV, a health group worker has alleged.
BBC Inside Out has found that 55% of those diagnosed with HIV in the Eastern region and the Midlands were diagnosed late, the highest rate in the UK.
Cambridgeshire HIV counselling group worker Todd Thorpe said a number of people had come for advice after their GP did not recognise HIV symptoms.
The Royal College of General Practitioners rejects the criticism.
A spokeswoman said GPs do receive training provided by groups endorsed by the Royal College.
'Become complacent'
Mr Thorpe, of Ramsey, Cambridgeshire, was diagnosed HIV four years ago after he was raped and said he struggled to seek support.
He now works with counselling group Dhiverse and offers training to GPs but claimed out of 96 surgeries, only two have signed up to training.
Mr Thorpe said: "I believe they have become complacent.
"We've had guys go to the GP with their symptoms and not once have they been offered an HIV test."
Sharron Spindler, the chief executive of Dhiverse, said: "Sadly we have had a number of people who have come to us for support, who have been diagnosed late because their GP didn't recognise that they could have HIV so didn't recommend an HIV test.
"We have also had a couple of reports of GPs telling their patient that it was unlikely they were at risk of HIV because they were married.
"This shows that there is still some misconception about how HIV is contracted and that you can't be at risk if you're not gay or have been in a number of relationships."
'Waited 12 years'
Mr Thorpe added: "It took me two years to finally seek support and help, both for the rape and being HIV positive. I didn't tell anyone. It just left me devastated."
Mr Thorpe claimed stories of late diagnosis - made after treatment should have begun - are common. He recently supported a man who waited 12 years to be tested.
"People are still dying whether through fear, ignorance or burying their head in the sand," he said.
It is estimated by Public Health England that one in five people with HIV still goes undiagnosed.
Watch more on this story on Inside Out at 19:30 GMT on BBC One East, and afterwards on iPlayer.