A47 upgrade: Campaigners get 'strong steer'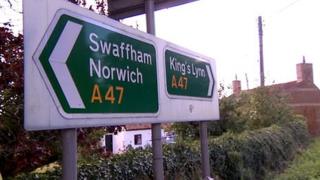 The push to dual a stretch of the A47 has had a "strong steer" that it would be a top priority for the government, an MP has said.
Campaigners want the road dualled from Great Yarmouth in Norfolk through to Peterborough in Cambridgeshire.
Local MPs and the A47 Alliance met roads minister Robert Goodwill.
Conservative MP for mid-Norfolk George Freeman said they were told Mr Goodwill would visit the A47 and discuss the business case for an upgrade.
Mr Freeman said: "We got a very strong steer that we've been successful in getting this road identified as a top six national priority.
"Our message was that we don't just want more patching, we want the whole thing dualled, we want a statement from the government.
"It may not happen overnight but we want to know that it's coming in the next few years and that investors, companies and communities can be sure that that decision is made."
"The fight goes to the chancellor in the run-up to the autumn statement but we're getting a good signal."
Up to 10,000 jobs could be created in Norfolk if the A47 was dualled, campaigners claim.
In January the government confirmed it would carry out a study to look at ways to improve the A47 and part of the A12 - one of six projects around the country "to find solutions to long-standing road hotspots".
Mr Freeman said nine MPs from Norfolk, Suffolk and Cambridgeshire, had banded together to lobby three successive roads ministers over the past three years.