Nick Clegg pays tribute to classmate revealing abuse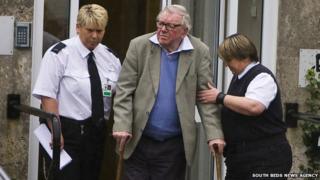 Deputy PM Nick Clegg has paid tribute to the courage of a former classmate who blew the whistle on a child abuser at his Buckinghamshire school.
Roland Wright, 83, was jailed for eight years for abuse committed at Caldicott Boys Preparatory School in Farnham Royal where Mr Clegg was head boy.
Whistleblower Ian McFadyen was a leading witness at Wright's trial.
Mr Clegg was "unaware" of the abuse but praised Mr McFadyen's courage which had brought a perpetrator to justice.
Another teacher, 82-year-old Hugh Henry, who pleaded guilty to indecency charges, was found dead on a railway line before he could be sentenced.
During his Call Clegg show on LBC radio, Mr Clegg listened to a recording of Mr McFadyen describing how he was targeted for abuse.
Increased vigilance
He directed a statement to Mr Clegg and said: "I'm passing the ball to you.
"I've done my bit, I stood up five years ago and I opened my life up to the world. I had my private life, my family life, my sexual life, my physical health and mental health discussed around a jury and a courtroom full of people.
"I'm glad you weren't touched and I'm glad you weren't hurt and I'm glad you weren't aware of it.
"There's a lot of damaged people out there. Please try and stop kids from getting hurt."
Mr Clegg said the testimony was very harrowing,
"I had basically happy recollections of school. Nothing happened to me or my brother and to feel now with hindsight, over three decades later, that people like Ian McFadyen were put through this nightmare and you were just completely oblivious is just..."
Mr Clegg said legal changes since the 1980s and increased vigilance made the situation "quite different".
The government is considering a mandatory legal requirement to report suspicions of abuse, but Mr Clegg said the evidence from countries which had tried this approach was "ambivalent".
Mr Clegg said his classmate's courage, and that of people, victims, who speak out like that, "not only brings perpetrators to justice... but it also brings it out into the open in a way where it has previously lurked in the shadows".