Trowell football match fight: 26 arrests made five months on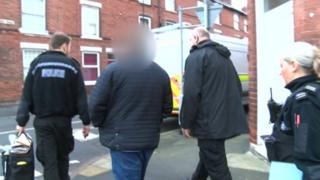 Police have arrested 26 men in connection with a fight after a football game last year.
An estimated 70 people were involved in the brawl after a match between Nottingham Forest and Derby County, shown at the Festival Inn, Trowell.
The men, aged between 16 and 50, were arrested in dawn raids in Nottingham, Derbyshire and Boston in Lincolnshire.
It brings the total arrests connected to the fight in September to 39 and more could follow, police said.
About 100 officers from the Derbyshire and Nottinghamshire forces were involved in the "long and complex" investigation, Det Insp Kev Broadhead said.
"The disorder took place long after the majority of supporters had enjoyed the game and made their way home peacefully," he said.
The 13 men arrested last year have been bailed.