Extra staff for Suffolk and Norfolk courts following inspection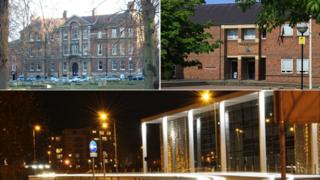 Staff shortages and a lack of training have been highlighted in a report about custody facilities at eight courts in Norfolk and Suffolk.
The HM Inspectorate of Prisons inspected Norwich and Ipswich Crown Court along with six magistrates' courts in September and October.
It said staff treated detainees "courteously" but mandatory checks were not carried out every 10 minutes.
Contractor Serco Wincanton said it was addressing "staffing issues".
Other concerns highlighted in the report include support for detainees who did not speak English, a lack of specific training in safeguarding young people or vulnerable adults and issues with the "unsatisfactory" temperature of cells.
But it also said detainees had a positive attitude towards staff and felt they were well looked after.
James Thorburn, managing director of Serco's home affairs business, said the company had made improvements since the inspection.
"[We] have taken on almost 80 new people since the inspection took place and the first of five new training courses began last week," Mr Thorburn said.
"There remains scope for further improvement and Serco Wincanton is committed to working closely with Her Majesty's Courts and Tribunals Service to achieve that."
Magistrates' courts in King's Lynn, Norwich, Ipswich, Bury St Edmunds, Lowestoft and Great Yarmouth were also inspected between 30 September and 4 October.