The products you uncovered 'Made in the Midlands'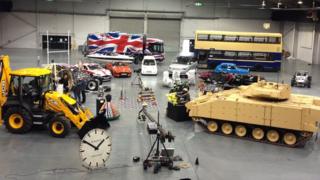 People have been sharing their thoughts on locally-made products after BBC News asked what is made in the region.
It followed predictions from economists that in 2014 the region could see growth in exports of about 5-6%, which is double the national average.
BBC Midlands Today has gathered more than 100 items produced in the region and BBC News has received responses adding even more.
John Self, from Sparkhill in Birmingham, said he ordered some lacquer online and was surprised when it arrived to see it was made "down the road" in Sparkhill, while Linda Fownes, from Wolverhampton, said brewing is "still big business" in the Midlands.
She said microbreweries were doing well and added: "Marston's brewery in Wolverhampton (formerly Banks's) is still a major producer of ale and runs numerous pubs in the region."
Coventry's cabbies said they were proud their vehicles were made in the Midlands, courtesy of the Coventry-based London Taxi Company.
Driver Mohammed Amjad said: "We feel proud to be working in the city where our taxis were built.
"I know a few people who work at LTC. This area has a great history of car manufacturing and, although a lot of the industry has closed down, it's good to know some manufacture still takes place here."
Tom Taylor from Leamington Spa is proud of the town's association with brake pads, courtesy of AP Leamington.
"That's why the football team was known as 'The Brakes'," he said.
Sticking with the transport theme, Tanya Noronha said Birmingham's Alfred M Reynolds was known for its invention of the butted tube. "It revolutionised racing bikes at the time, allowing them to remain strong but making them much lighter," she said.
"The company is best known within the cycling industry, as Tour De France winners have won with Reynolds tubing, but they've diversified more recently and have been involved with motorbikes, cars, skating, circus equipment - you name it."
John Butters, a director at Good Relations Regional, wanted to highlight the role of tyre manufacturer Dunlop in Birmingham.
"Dunlop Aircraft Tyres, the world's only specialist aircraft tyre manufacturer and retreader, has been manufacturing its products in Birmingham for more than 100 years and today the company employs 355 in Erdington," he said.
"More than 80% of the tyres it makes at the factory are exported overseas and it recently completed a £4m investment in the facility."
Perhaps less well-known is the Midlands' connection with weights and measures - but it is something Laura Wilks is proud of.
She says Avery Weigh-Tronix, based in Smethwick, has been manufacturing weighing equipment in the Midlands since 1731.
Marcus Gibson, former technology editor for the Financial Times, said: "The glory of manufacturing today in the West Midlands is its small companies."
He points to its success in highly specialised fields, such as nanotechnology, which he says have a huge export value.
Consumer industries were also on the lips of many Midlands business fans - Nottingham-based Boots and Birmingham-based Cadbury were two that prompted many a mention.
"There are a lot of consumer products being made in the Midlands now and those companies are two of the best known," said Steve Bond, who has lived in Coventry and Leicester and describes himself as "Midlands through and through".
Chris Kirby, head of collections at Culture Coventry, said the region's innovative history was bound up with the diversity of its current manufacturing industries.
"We have a fantastic history of invention and manufacture in everything from bicycles and cars to the jet engine," he said. "I think, as a result, you feel very proud of the area."