John Constable pencil drawings to be auctioned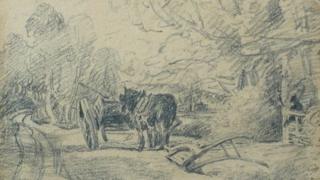 A collection of previously unknown drawings by the Suffolk artist John Constable found in a house in Norfolk are to be auctioned later this week.
The seven Constable drawings, and an eighth by his son Lionel, were bought in 1952 for £500, but went unnoticed until the family decided to move house.
They took them to fine art specialists Cheffins in Cambridge, who had them authenticated by an expert.
The drawings have been valued at between £4,000 and £12,000 each.
Sarah Flynn, head of the paintings department at Cheffins said it had been "a special find".
"Hardly any privately-owned collections like this come up for auction," she said.
"The owner had inherited them and had grown up with them and he wanted to know more about them, so he brought them to us."
One of the highlights of Thursday's auction is a pencil drawing of a horse at rest beside a plough, believed to have been drawn by Constable while on his honeymoon with his wife, Maria.
The drawing, 9cm by 11cm (3ins by 4ins) and originally made in a pocket-sized sketchbook, which he took on his honeymoon, would have been drawn on their return from Dorset while staying with friends in Binfield in Berkshire.
It is inscribed with the words: "Binfiled Decr. 6th 1816".
Other East Anglian scenes in the drawings include the river meadows around East Bergholt and the footbridge at Flatford.
Ms Flynn said there had been interest in the drawings from all over the world.
The collection is expected to fetch between £50,000 and £60,000.