Miners' Hymns: Coalfield history in music and pictures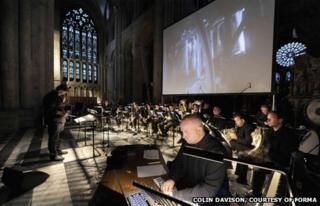 The 30th anniversary of the UK miners' strike is being marked in Durham, London and Tyneside with a work combining music and archive film of coalfield communities.
The 1984-85 strike was steeped in words - shouts of anger and conflict, speeches of determination and rhetoric, whispers of secrecy and despair.
But Bill Morrison, the New York-based creator of Miners' Hymns, believes his performance does not need words. "The footage does that job," he says.
It is being shown at the Sage Gateshead, The Barbican in London and Easington Social Welfare Centre.
Local brass bands and professional musicians will play an original score by Icelandic composer Johann Johannsson against a backdrop of Morrison's film, pieced together from BBC reports, rarely-seen footage from the British Film Institute and local archives.
The images show 100 years of mine-working life, through the strike and the annual miners' galas to the present day.
'Struck and moved'
"This is what this region used to look like, it's what people remember, it's the history now captured on film that you don't see every day anymore," Morrison says.
Barbican contemporary music programmer Chris Sharp was "unbelievably struck and moved" by the first performance at Durham Cathedral in 2010.
"I saw it then and thought it was frankly an amazing piece of work and I've been looking for an opportunity to show it since then," he said.
He accepts it cannot have the "same resonance" seen in London but, since its US and Icelandic creators already tell the story from the "perspective of an outsider", it is appropriate it should be seen more widely, he says.
Easington Social Welfare committee chairman David Boyes said it was a "great honour" to host the work and tickets had sold out in a matter of days.
"It isn't what we would traditionally associate with a brass band, the music, but I think Easington people, they're willing to try anything and I think they'll take to it."
Morrison believes the themes of the miners' strike are not unique.
"It's something that's happening the world over, not just in terms of labour but also in terms of mechanisation and what happens when a community gets the sack," he says.
"The north east has a tremendous future ahead of it. We still do burn a lot of coal here in the UK. But that's imported coal."
Miners' Hymns is at the Sage Gateshead on 5 March, Easington Social Welfare Club on 7 March and Beamish Museum on 29 and 30 March. Its London premier is at the Barbican on 9 March.