Families face 'revenge evictions' for complaining to landlords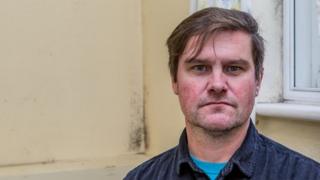 Families across England are facing "revenge evictions" after asking for a problem with their home to be resolved, according to research by Shelter.
One in 50 private tenants have been evicted or served with an eviction notice for complaining to their landlord, a poll found.
The survey of 4,500 renters suggested a further 8% avoided making complaints for fear of losing their home.
Shelter chief executive Campbell Robb described the findings as "shocking".
Greg and Laura Moore, from Fakenham, Norfolk, were served with an eviction notice after raising issues with damp and mould in their home.
Leaking roofs
The couple, who have three children, believe it was a direct result of complaining.
Mr Moore said: "After living here for two and a half years, the eviction notice came just three weeks after I asked the landlord to sort out the mould and damp.
"Right now we have nowhere to go and moving house is going to mean moving my son's school in the middle of his GCSEs. We haven't done anything wrong. This shouldn't be allowed."
BBC News could not contact Mr Moore's landlord.
Campbell Robb, chief executive of Shelter, said unfair evictions were taking place around the country.
"No-one should lose their home for asking their landlord to fix a problem."
The National Landlords Association said it was disappointed with "numerous broad statements" made by Shelter in relation to the research.
A spokesman said: "The NLA wants to see the government and local authorities take a more proactive approach to enforcement and commit to a concerted effort to eliminate criminal landlords."
The YouGov research was commissioned by Shelter and British Gas as part of their campaign to improve conditions in privately rented homes.
A quarter of those polled have lived with a leaking roof or windows and more than two-fifths said they had experienced mould during the past year.