Outdoor learning cuts approved by Birmingham council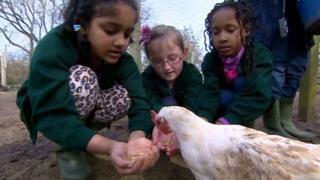 Outdoor learning services for schools will end at eight sites operated by Birmingham City Council, the authority has confirmed.
On Monday council leaders approved plans to stop funding for outdoor education at the sites from 31 July.
But the council said it would maintain a service providing short breaks for children with disabilities and their families.
The authority is trying to save £822m over the next four years.
It said the closures could save £133,000 in 2014/15, and the sale of the sites was expected to raise about £2.8m.
The centres due to close at the end of July are:
Coopers Mill Cottage, near Bewdley, Worcestershire
Mount Pleasant Farm in Forhill
The Stables in Bromsgrove
Springfield Outdoor Learning Centre near Knowle, Solihull
Ogwyn Cottage in Gwynedd, Wales
Stansfeld Outdoor Education Centre, Oxford
Bockleton Study Centre, Worcestershire
Bell Heath Study Centre, Worcestershire
Education services at Birmingham Nature Centre and Clifton Road Outdoor Education Centre, Sutton Coldfield, will continue, the council said.
'Disastrous'
A council report said the sites are underutilised, with residential centres used at about 55% capacity.
It said outdoor education services were running at a loss of over £1m a year.
But a Birmingham City Council spokeswoman said other providers could still take over running the services.
"The relationships we have built up over the years of providing this service means that a number of organisations are now well-placed to continue provision of some key services," she said.
"We are in discussions with partners about ongoing provision."
Councillor Roz Smith from Oxford County Council, who attended the Birmingham City Council meeting, said it would be "disastrous" if the plans went ahead.
The Liberal Democrat councillor said the Stansfeld centre near Oxford was "good for mental and physical wellbeing".
Ms Smith said more than 600 people had signed a petition against the council's plans.