£12m funding for East Midlands damaged roads repairs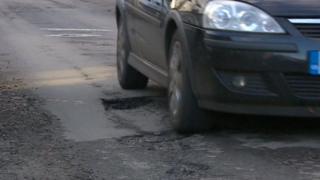 Almost £12m has been given to councils in the East Midlands to help mend roads damaged by the wet weather.
The £11.7m is part of a £183.5m "exceptional payment" from the government to help with repairs nationwide.
Lincolnshire has received the largest amount in the region, with £3.3m, followed by Derbyshire, with £2.9m.
Six other councils, including Nottinghamshire and Leicestershire, shared about £5.5m.
Transport Secretary Patrick McLoughlin said damaged roads had caused "misery for drivers and local communities".
"This extra money will help make a real difference to the millions of road users and residents across the East Midlands who rely on local roads," Mr McLoughlin said.
Last year, Lincolnshire County Council said it would cost about £100m to fill every pothole in the county to a decent standard.
It said it would cost about £300m to repair the county's 5,600-mile (9,000km) road network in general.
One county pothole even had a dedicated Facebook page to highlight the problem.