North East missing out on TV and film production money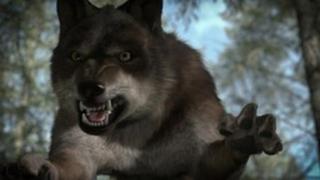 On the face of it this has been a good week for television in the North East of England.
BBC children's programme The Dumping Ground won a Royal Television Society award, beating fellow nominee Wolfblood. Both are shot entirely in the North East.
But that success masks a problem - actually not that much film and television is shot in the region compared to other parts of the UK.
And those working in the industry think there is a simple explanation - money.
European funds
The North East currently has no production fund to lure in TV and film crews - and that makes it stick out like a sore thumb.
To the north Creative Scotland has a £5m pot to offer production companies; to the south Screen Yorkshire has used European funds to amass £15m; over the Pennines the North West can also offer £15m.
That gives those areas an incredible advantage. While Screen Yorkshire and Creative Scotland can offer grants of up to £500,000, the North East's equivalent Northern Film and Media can offer at most £3,000.
Northern Film and Media managing director John Tulip believes the region is missing out.
He said: "Yorkshire has had a huge increase in the number of productions shot there since their fund was set up.
"Recently we hosted one new drama shot for three days at Bamburgh in Northumberland, but the rest is being shot in Yorkshire. If we'd had a fund to offer them, that might have persuaded them to base themselves here.
"We can provide a great service in terms of finding locations and crew, and supporting productions when they're here. But in terms of offering money for development, we just can't compete."
Local economy
John Tulip is now looking to tackle that imbalance. A bid to the government's Regional Growth Fund failed. But now he is aiming to persuade the North East Local Enterprise Partnership to set up a production fund with the next round of European regional aid.
But with the money being in high demand, the North East Local Enterprise Partnership (LEP) will have to be persuaded it can deliver for the local economy.
One man who is convinced of that is Alan Fairholm, a freelance TV producer who has worked on many of the region's award-winning programmes.
He believes there are economic and cultural benefits of building up the industry.
He said: "TV productions bring in money, whether it is for local crews, locations or hotels, so at the moment we are missing out on the economic benefit.
"But it's also about the North East being represented on screen, and at the moment that's just not happening enough."
Attracting more TV and film productions could also make an impact on the next generation too.
The University of Sunderland currently has 2,000 students in its media and arts faculty. But as graduates they are unlikely to end up staying in the North East.
Graeme Thompson, the faculty dean and chair of the North East branch of the Royal Television Society, said: "The chances are pretty much all or certainly a majority will have to leave the region to get work.
"It would be a missed opportunity not to try and support the industry in this region so that our graduates and those from other universities here are not forced out of the North East."
Home-grown industry
Of course, what the industry needs to do now is convince the LEP a production fund could offer a good return.
There is some evidence to back that up.
In 2010 Northern Film and Media was given £2.4m as a one-off pilot fund by regional development agency One North East. Eight productions were attracted until the money ran out.
But Alan Fairholm says it's important any fund delivers maximum benefit to the region. As someone born and bred in the North East, he wants to see any fund concentrate on building a home-grown industry.
He said: "There has to be a condition that companies handed the money use local talent and have a base here.
"My issue with the last fund was what you could call carpet-bagging. What some guys did was move the production here, they made the most of the money and then disappeared and there was no legacy.
"In some cases bigger productions did not even employ local talent. I think if you are going to offer incentives then there has to be some long-term legacy.
"At the moment there isn't a single decent-size independent production company based in the North East. That has to change."
The North East can boast some quality TV productions at the moment - whether it's Wolfblood, The Dumping Ground and George Gently on the BBC, or the detective series Vera on ITV.
But the quantity is more of an issue. It'll now be up to the North East LEP to decide whether that matters enough to merit some attention and investment.