Truro Cathedral organist takes up St Paul's post as first woman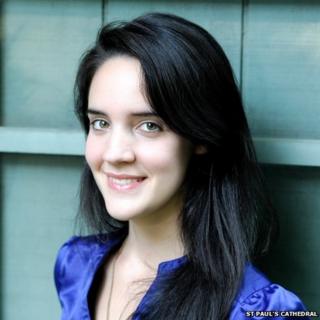 An organ scholar based at Truro Cathedral is to be the first woman to hold any organist post at St Paul's Cathedral in London.
Rachel Mahon, 24, who has been working in Truro since September, has been appointed the William and Irene Miller Organ Scholar at St Paul's.
She will take up the position for the 2014/15 academic year.
Canadian national and University of Toronto graduate Miss Mahon said she was "thrilled" to have been appointed.
Speaking to BBC Cornwall, Miss Mahon said she was confident more women would become involved in cathedral music in the future.
She said: "I think that women aren't very much in this field because they haven't been into it before.
"It's not because they are not welcome, but I think that it's also to do with boys and girls choirs.
"Girls choirs in cathedrals are a relatively new thing, and we may see more females playing the organ because they have grown up hearing it every day because they sing in a choir."
As well as playing for services and in recitals, her duties will include holding choir rehearsals, conducting and helping with departmental administration, St Paul's said.