River Thames Whitchurch Bridge delayed work resumes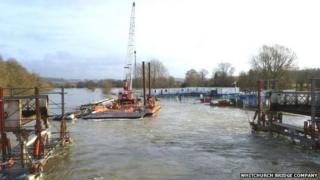 Work to rebuild a bridge over the River Thames, which was delayed by flooding and river conditions, has resumed.
Whitchurch Bridge's £4.3m reconstruction, which began in October and was originally due to finish in April, was halted on 20 December.
The toll bridge between Whitchurch-on-Thames and Pangbourne is now expected to re-open in September.
Its operator said work was now "more complicated" because it coincided with boating season which starts on 1 April.
'Ghost town'
Geoff Weir, from the privately-owned Whitchurch Bridge Company, said the delays were regrettable.
He said work would now be carried out during some weekends and nights, and that an extra crane would be deployed on site this week.
About 6,000 vehicles a day use the 112-year-old bridge.
Since its closure, Barbara Grey, of Grey's Cheese Company in Pangbourne, said business was down by about 25%, and described the village as a "ghost town".
She also said no-one in the village believed the bridge would reopen in September because "opening dates keep changing".
Reading West MP Alok Sharma had questioned the five-month delay and called for the company to provide a detailed update on what work had been done at the start of each month.