Gatwick new runway 'cheaper and quicker' than Heathrow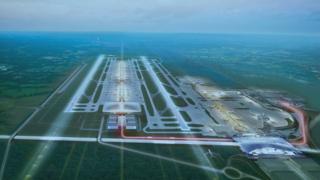 A new runway could be built more cheaply and sooner if Gatwick was chosen for expansion over Heathrow, the West Sussex airport's boss has said.
The owners of Gatwick have launched a campaign to step up their case for expansion.
Gatwick has set out three options for building a second runway.
But Heathrow said airlines had been unable to sustain long-haul flights at Gatwick and claimed 21 services had been withdrawn from there since 2008.
'More affordable fares'
Gatwick chief executive Stewart Wingate said: "We can deliver it [a runway] faster. We can deliver it cheaper. People will get more affordable fares."
He said Gatwick could serve both short-haul and long-haul markets and had a strong track record in flying to long-haul destinations.
Five airlines were expanding long-haul services at Gatwick this summer, he added.
He also said Gatwick had this year installed Europe's most progressive noise insulation scheme.
Heathrow said airline Garuda Indonesia's decision to use Amsterdam Schiphol instead of Gatwick as its European base for a service to Jakarta showed only a hub airport hosting many connecting passengers could sustain long-haul routes.
Chief executive Colin Matthews said: "Heathrow doesn't oppose a second runway at Gatwick which serves predominantly short-haul, low-cost airlines.
"But new capacity at Gatwick will not provide the hub capacity needed by network airlines to put on new long-haul routes."
Heathrow has given a start date of 2020 for work on its £17bn runway because a public inquiry would be needed for the six-year scheme to go ahead.
Gatwick said it could start construction on its £7bn runway before the end of the next parliament in 2020, with the first flights taking off in 2025.
The airport is due to submit further research to the Airports Commission in May.
Gatwick, which is working with architect Sir Terry Farrell, released more images of the planned two-runway airport on Tuesday.
Sir Terry said: "Expansion at Gatwick could do for south London and the wider region what the Olympics did for east London and give a huge boost in terms of jobs, housing and regeneration."