Train firm London Midland to shed 150 jobs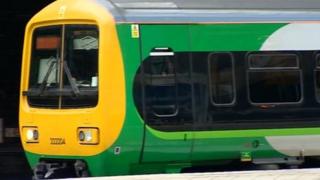 London Midland is to shed 150 jobs as part of a restructuring plan, the train company has announced.
The company said the redundancies will focus on head office and support staff and will not affect services.
London Midland said the plans would help to increase efficiency and were aimed at reducing costs.
In November the company, which operates services across the West Midlands, said driver shortages had led to cancelled or delayed services.
'Urgent talks'
However, it said no frontline staff were being lost in the current "restructuring plan".
Managing director Patrick Verwer said: "The service to our passengers will not be affected by the changes.
"We have made good progress over the last year. Like every other business, however, we have to keep our costs under control.
"Our proposal has been designed to increase efficiency and reduce our costs while continuing to improve trains and station services."
Manuel Cortes, leader of the TSSA rail union, said: "We are very disappointed to hear about these job losses, especially as things appeared to be at last settling down at the company after all the difficulties over the past few years.
"We are seeking urgent talks to discover just whereabouts these jobs losses are planned."