Police hoping to recoup John Anslow drug money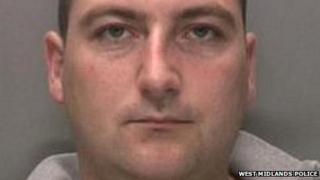 Police are aiming to recoup money that a West Midlands drug dealer used to fund a lavish lifestyle of sports cars and luxury holidays.
John Anslow, 33, from Tipton, supplied cocaine and cannabis as part of a worldwide drugs network. Police recovered one haul worth £1.1m.
He was sentenced to 22 years in prison for drug dealing in September 2012.
Details were revealed after he was cleared of murdering Richard Deakin at Woolwich Crown Court on Wednesday.
West Midlands Police revealed Anslow spent £24,000 on holidays to the Dominican Republic, St Lucia and Bangkok, which were all paid for in cash.
The force said he owned several sports cars and bought watches and jewellery worth £26,000.
Anslow, who supports Wolverhampton Wanderers, also spent more than £36,000 in sponsorship at the Molineux Stadium between 2008 and 2011, it said.
Mike Greenland from West Midlands CID said: "Anslow hadn't declared any income to HRMC that could justify such an extravagant lifestyle.
"The reason for that is simple. The money came from drug dealing."
Anslow's drugs operation was uncovered by police in Liverpool in February 2011 when officers found cannabis resin worth £1.1m at a lock-up in Formby.
After West Midlands Police bugged his flat in Bradley, Anslow sent them a Spanish postcard to try and convince them he had fled to the continent.
Detectives found him on 12 August 2011 in a caravan park in Bewdley, along with a stash of cocaine.
He told police his lifestyle was the result of winning £500,000 through gambling.
After being charged with drugs offences, Anslow went on the run, escaping from a prison van and fleeing to Northern Cyprus in January 2012.
He was eventually arrested and returned to the UK in March 2013.
Other members of his drug network were also jailed, including Phillip Eastwood, from Russells Hall Road in Dudley, who was given 18 years for drugs supply and possessing a firearm.
Neil Doody, from Eagle Street in Tipton, was given a nine year sentence at Stafford Crown Court.
Anslow's uncle, David Harrison, of Rainbow Street, Bilston, who was convicted of murdering Richard Deakin in December 2012, was given a 12 year sentence for his part in the drug network.