Strike ballot for First Great Western railway staff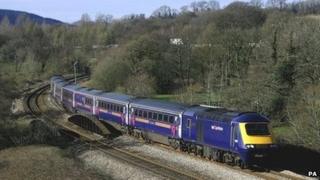 Railway workers at First Great Western are to be balloted for industrial action, the Rail, Maritime and Transport Union has said.
Acting general secretary Mick Cash said the dispute is over issues including agency work and employment contracts.
He said members would be asked if they are prepared to take part in industrial action up to and including strikes.
First Great Western (FGW) said it was "astounded" the RMT had not decided to respond to management proposals.
'Long-standing issues'
"We have been around the table extensively over the past six months and we have meetings scheduled with the RMT leadership next week," a FGW spokesman said.
"In the meantime, we would be delighted if the RMT could share a formal response to the package of proposals we gave them in January, so we can better understand how we might be able to move forward with some urgency.
"We are very keen to find a resolution to issues raised and avoid unnecessary disruption for customers, but it is very difficult without having a single response on the proposals put forward."
The union, which has around 2,000 members at the company including drivers and onboard crew, said it was in dispute over dismissals and disciplinary procedures, agency and contract working and zero hour contracts.
It called on bosses "to come to the negotiating table and resolve these long-standing issues".
"We want to see a collective agreement regarding the use of both agency and contract workers," Mr Cash said.
"We also want the company to end its use of zero hour contracts, which we believe are exploitative and leave workers with no guarantee of what they will earn."
FGW operates trains across the Western region, carrying 1.5m passengers every week on 9,000 services and calling at 276 stations.