Peak District buzzard trap death condemned by wildlife groups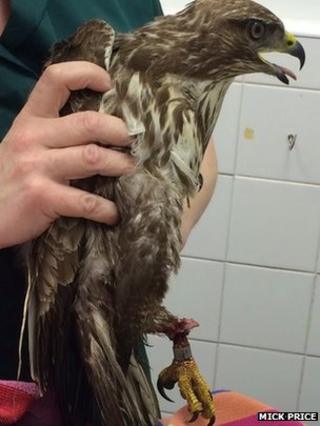 Wildlife organisations have condemned the illegal trapping of birds after a buzzard was found fatally injured in the Peak District National Park.
The bird of prey was discovered by walkers who found the distressed bird with its leg caught in a metal spring trap on moorland, at Winscar Reservoir, near Holmfirth.
The walkers took the bird to a vet but its injuries meant it had to be destroyed.
Police have begun an investigation.
Geoff Nickolds, from the Peak District authority, said: "We work closely with landowners, gamekeepers and bird groups to encourage birds of prey such as buzzards and peregrines to nest and rear chicks successfully in the national park."
He added: "The death is especially upsetting as the bird had been ringed as a chick last year at a nearby site."
Buzzards are protected by law and it is illegal to kill them, or disturb their nests, he said.
Conservation groups have come together to offer a £2,000 reward for information leading to a conviction.