Roger Freeman's widow recalls 'nightmare' bull attack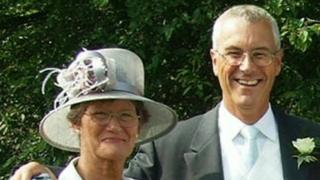 A woman's account of the moment a bull killed her husband as they walked together has been played to a court.
Roger and Glenis Freeman were walking at Underhill Farm at Stanford-on-Soar near Loughborough, Leicestershire on 12 November 2010 when the animal charged.
Nottingham Crown Court heard Mrs Freeman's police interview in which she described the attack as a "complete and utter nightmare".
Farmer Paul Waterfall, 39, denies manslaughter by gross negligence.
The couple, from Glen Parva, Leicestershire, had walked about 12 miles (19km) when they reached the field containing the bull.
Speaking to police two months after her husband's death, Mrs Freeman said they had noticed the animal but Mr Freeman, 63, had said not to worry.
Walking ahead of her husband, she then heard an "oof" noise and turned to see him knocked to the ground with the bull standing over him.
'Roger shouted out'
Mrs Freeman, 70, told an officer: "It was as though we were in a complete and utter nightmare."
She said she then tried to distract the animal from her husband but it charged at her twice.
"One of the times it hit me in the chest," she told the officer.
"I don't know how many times it charged Roger.
"The last time Roger said anything at all, he shouted out 'I'm sorry, my baby. I can't get us out of this.'"
Running out of the field, Mrs Freeman flagged down a motorcyclist, who called for help.
'Risk of death'
Her husband was pronounced dead at the scene from multiple injuries, including several fractures.
Mr Waterfall was charged following an investigation by the Health and Safety Executive.
It is alleged he breached his duty of care to the public by failing to ensure the bull was safely confined on his land.
Prosecutor Andrew McGee had earlier told the court that the 19-month-old bull, named Zac, had already chased other people and should have been culled following these incidents.
He said Mr Waterfall knew the animal "posed a real risk of death to people using that path".
The trial continues and is expected to last about five weeks.