Hillsborough stories: Stuart Paul William Thompson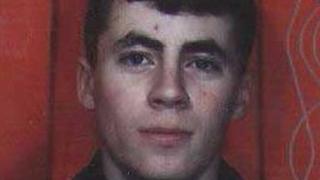 Stuart Paul William Thompson was an apprentice joiner from Liverpool, who travelled by car to the match with his brother, Martin Thompson, and friends Simon Hughes and Jason Kirwin, all of whom survived
This is the full statement to the inquests read by legal representative Ms Leanne Dunne on behalf of his father, Michael Thompson, who has now passed away:
Mr Thompson's brother, Martin Thompson, also gave a full statement to the inquests on behalf of their mother, Winifred Thompson.
This is a statement of Michael Thompson. He wrote this statement in August last year. Unfortunately, he passed away earlier this year. It says:
I am the father of Stuart Paul William Thompson, who was killed at the disaster at Hillsborough Football Stadium on 15 April, 1989.
My son was a victim of the crush which occurred in pen 3 on the Leppings Lane terrace. He was 17.
I make this statement at the request of the coroner, with a view to providing some background personal information about my son.
Stuart was born on 16 September, 1971. Stuart was one of six children. He had three older brothers, Richard, Ivan and Martin.
He had one younger sister, Eileen. He also had a younger brother, Matthew, who was stillborn. Richard and Stuart shared the same birthday, on 16 September.
Stuart and Martin were close in age. While growing up, Stuart and Martin were very close to each other.
They would spend a lot of time together. Martin and Stuart were at the match together on 15 April, 1989.
Stuart was a happy child. He had plenty of friends. He had a comical personality. He always had a smile on his face.
'Memories flood back'
Stuart went to primary school at Our Lady of Formby and moved to Holy Family Secondary School in Crosby. He enjoyed school and always did well in exams.
He was very sporty. He enjoyed playing and watching football. Stuart had always been a fan of Liverpool Football Club. He was also keen on cricket.
Stuart used to spend time out with his friends and playing out in the garden.
When Stuart was younger, I would take him to the pantomime at Christmas with his grandmother. He always looked forward to that. He really enjoyed having days out. We would also have days out on coaches travelling to see country estates.
We would go to Rhyl and Stuart really enjoyed going on the fairground. Stuart's favourite day out was to the zoo. I used to take Stuart to Chester Zoo where he loved to see the animals.
As Stuart used to do his own thing at home, our days out as a family gave us an opportunity to spend some quality family time together. When I think back to my memories of Stuart, it is our days out that I remember.
When I see the zoo, the fairground or the places on TV, memories of Stuart come flooding back.
'Gone but not forgotten'
Stuart had begun his apprenticeship as a joiner with a local firm.
Stuart had a friend when he died who left a wreath at his grave saying 'Gone but never forgotten'.
He was a very thoughtful person. I learnt afterwards that before going to the match that morning, Stuart had gone out to collect milk for his mother.
This was typical of Stuart. He always used to do things to help his Mum.
I was told about Stuart's death when I was at work. My wife collected me and brought me home. She sat me down and told me that Stuart had died at the football match.
I couldn't believe it and I was shocked. On Monday, 17 April 1989, I travelled to Sheffield with my wife. I spoke to the police and a priest.
I was taken to a room with a glass window. I was able to see Stuart through the window.
I later visited Stuart's grave and put flowers down for him. We put a tree on the grave.