River Thames is 'fast flowing', Environment Agency warns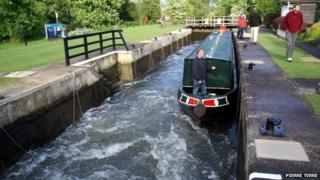 Boating season on the River Thames may be affected by fast flowing currents caused by the winter floods, the Environment Agency has warned.
It advises caution when on the non-tidal river, from Lechlade in Gloucestershire to Teddington in London.
About 2,500 million tonnes of water flowed down the river over the winter.
Waterways manager Matt Carter said boaters should be aware of conditions and heed any warnings in place.
He said: "With spring finally here, we know that most boaters are itching to get out on the river and enjoy their favourite pastime.
"But we urge them... to heed our strong stream warnings if they are in place."
Boating season traditionally starts on the Easter bank holiday weekend.
Signs notifying boaters of the current warnings have been installed at each lock.
Winter rainfall is still flowing into the Thames from its tributaries and from groundwater from hills around the Thames Valley.