Miners balloted over plans to close Yorkshire colliery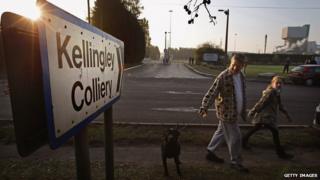 More than 700 miners working at Kellingley Colliery in North Yorkshire are to be balloted over plans to close the pit.
The mine's owners, UK Coal, called the postal vote after members of the National Union of Mineworkers (NUM) rejected plans for a "managed closure".
UK Coal is to shut the mine and Thoresby Colliery in Nottinghamshire over the next 18 months.
The firm said the pits faced "instant closure" if miners rejected the plan.
The ballot paper asks the workers: "Will you work to deliver the plan proposed for Kellingley Colliery to December 2015?"
Last week, UK Coal secured a £10m loan from the government to fund the closure of the two mines, which the company claims are uneconomic.
'Stark choice'
After a meeting of about 250 members on Sunday, the union said it wanted the government to explore alternative options for keeping the pit as a "going concern" and called for further talks.
Andrew Mackintosh, from UK Coal, said the company was "forced" into holding the ballot following the meeting.
"We have that stark choice of instant closure or the 18 months," he said.
"If we've got 18 months, everyone gets their redundancy, suppliers get paid, we close them down safely and it gives people the chance to look for a job."
Chris Kitchen, the general secretary of the NUM, said he thought his members would vote in favour of the plan.
"In order to fight to keep Kellingley open, we have to keep it open," he said.
"So as much as a bitter pill as it is for them to swallow, then yes we have got time to fight if we accept the deal put together by UK Coal."
The ballot closes on 22 April.