Tax fraudster jailed for two years after second trial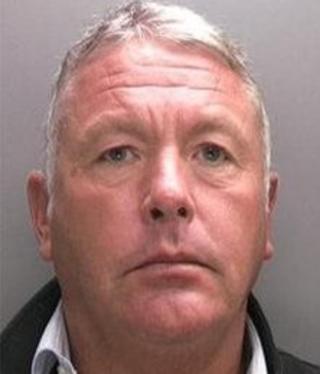 A tax cheat involved in a fraud network run by a "notorious" conman has been jailed after a second prosecution.
Stephen Oakley, 58, of Little Wratting in Suffolk, was convicted of money laundering and perverting the course of justice, and jailed for two years.
Oakley initially admitted fraud in 2011 and received a suspended sentence.
But, this second prosecution came after he was found to be complicit in a scam led by £34m Solihull fraudster Thomas Scragg, Birmingham Crown Court heard.
Scragg, who was convicted of running the operation in 2012, is currently serving a 17-year sentence, one of the longest in UK criminal history for fraud, according to West Midlands Police.
Oakley laundered hundreds of thousands of pounds of money gained from a tax scam engineered by Scragg, the West Midlands Regional Asset Recovery Team told the court.
Scragg set up several payroll companies and collected PAYE payments, which he did not pass on to HM Revenue and Customs (HMRC).
'Significant amount'
Oakley tried to hide the money by moving it between bank accounts, some of which were in his wife's name, said West Midlands Police.
Lorraine Oakley, 58, has received a nine-month sentence, suspended for 12 months after being found guilty of fraud by an abuse of a position of trust.
Det Sgt Derek Tinsley added Oakley had cheated the taxpayer out of a "significant" amount of money.
"He thought he could get around the legal process by working with his wife Lorraine to move the cash between different accounts, using their business in Suffolk as a cover," he said.
"The problem for them was that there's always an audit trail and as a result of close work with HMRC we were able quickly catch on to what they were doing and bring further charges."
"Confiscation and forfeiture orders strike right at the heart of the principal motivation for organised crime - money."
Confiscation proceedings are ongoing.