Coroner adjourns Stafford Hospital inquest so 'staff can be traced'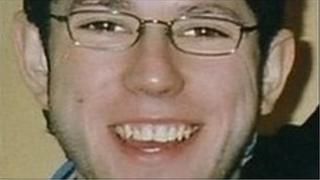 A second inquest into the death of a Stafford Hospital patient is adjourned so potential witnesses from the hospital can be located.
John Moore-Robinson, 20, was treated at the hospital on 1 April 2006, after a mountain biking accident.
He collapsed at his Leicestershire home after being discharged with an undiagnosed ruptured spleen.
Coroner Catherine Mason adjourned the Leicester Town Hall hearing until 2 July.
'Fearless inquest'
His parents, Janet and Frank Robinson, wept as Ms Mason said she had to stop the new inquest, which opened on Monday, so attempts could be made to trace the hospital staff.
She said there were at least two more nurses and a doctor who had been on rota the day Mr Moore-Robinson was treated and may be required to give evidence.
Mr Moore-Robinson's parents have been campaigning for the fresh inquest for eight years.
Ms Mason told the hearing: "I am sorry I'm in this position, but if I'm to do the right thing I must not ignore what I now know.
"I must not and I will not ignore it. To do so will not satisfy a full and fearless inquest."
The coroner told David Lewis, representing Mid Staffordshire NHS Foundation Trust, which runs Stafford Hospital: "I want proper and open disclosure of anyone who was involved in April 2006."
Trust apology
Mr Lewis apologised to Mr Moore-Robinson's family on behalf of the trust.
The inquest heard earlier that Mr Moore-Robinson had been riding with two friends when he was "catapulted" from the bike and the handlebars twisted, digging into him.
Post-mortem tests showed he died from internal bleeding and a ruptured spleen.
Commenting after the coroner's decision to adjourn the inquest, Frank Robinson said: "We are eight years in now and we are still being told there has not been full disclosure.
"The trust now needs to go back and do a lot of soul-searching. We are speechless, we are shocked, totally shocked."
The first inquest returned a narrative verdict but Mr Moore-Robinson's family argued for a fresh hearing after new evidence came to light.