Durham Miners' Gala under threat over £2m court bill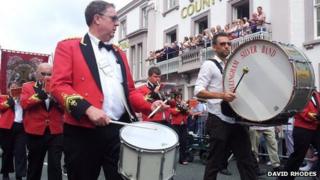 The Durham Miners' Gala is under threat after a lost court case has left the group with a bill of more than £2m.
The Durham Miners' Association (DMA), which stages the annual event, has to pay out £2.2m after losing a six-year court battle on behalf of former miners who have osteoarthritis of the knee.
Now the group is appealing for funding to "ensure the future" of the gala, which has run for 143 years.
Chairman Alan Cummings said there was some "harsh decisions" to be made.
Tens of thousands of people go to the city's racecourse every July for the gala, which is a celebration of the area's mining heritage and links to the trade union movement.
The DMA said it would have to pay the final settlement of a six-year battle for compensation, which was lost at the Court of Appeal.
Mr Cummings said: "There has got to be some harsh decisions made because our priority is to have a service for our members and their families which we're quite proud of.
"We represent miners and their families at tribunals and they need our help and support."
A fund-raising appeal last year secured enough to cover the £60,000 annual running costs up until the end of 2014.
The association said it was "confident" trade unions would help support the event.