Hillsborough stories: David Hawley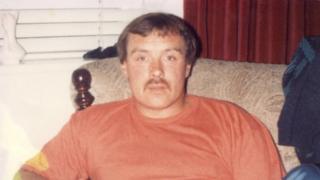 A car mechanic from St Helens, David Hawley drove to Sheffield with his nephew, Stephen Francis O'Neill, who also died.
This is the full statement to the inquests from his daughter, Leanne Hawley:
Speaking on behalf of the Hawley family, I will say as follows in relation to our lovely dad:
David Hawley, born 26 January, 1950, age 39. I am his youngest child. My mum, Anne, and my dad, Dave, had three children. Claire was 16, John was 12 and I was one when he was taken from us at Hillsborough.
My dad was an only child. He was treasured and much loved by all who knew him. Mum and Dad both attended the same school, but did not get to know each other and fall in love until they met on the Isle of Man where my mum was working and my dad was on holiday.
My dad sold his Polaroid camera so he had money to stay an extra week because he wanted to pluck up the courage to ask my mum out.
Mum always says she feels very lucky to have been with my dad. He was the love of her life and her best friend.
Here are some of my mum's memories of Dad:
"He was known for his brilliant sense of humour and straight talking. He was always very sociable. He was the life and soul of any party or family event.
"He cared for others and would do anything for anybody. He worked hard all his life, as he wanted better things for us. Not long before his death, we planned to move to a bigger house, as he had been promoted at work, and we talked of doing a lot more things in the future.
"We always wanted to travel, and he wanted to experience travelling with the children. We had so many plans for the future, all centred around our children."
'Happy time'
My sister Claire has shared with me memories of Dad and here are a few of them:
"We did not have much money growing up. Dad was a car mechanic and worked for buttons, but we had a really happy childhood.
"On Friday nights, my dad and I would go to the shop and he would buy us some goodies.
"We would go home and all sit on the couch to watch a film. I remember that so well. It was a really happy time.
"My dad worked hard. Out of work, he fixed cars to earn extra money. He was what you might call 'a character'. If there was a party, he was at it. If there was a dancefloor, he was on it.
"My dad was fun and my friends and cousins loved coming to our house. A friend said to me once, 'Your house is a happy house', and it was.
"My mum and dad had a lovely relationship. They loved each other so much. People would comment that they were like soul mates.
"Yes, they argued at times - mostly about football.
'Humour'
"My dad loved football. He loved everything about it. He loved to play it, he loved to coach it, he loved to watch it, and he loved to talk about it.
"I think that is probably why I don't like football so much now. There is only so much of the Match of the Day theme tune a girl can take.
"I think I was very lucky to have a dad like mine. He taught me so much. I am happily married with a beautiful daughter, Chloe, who has just had her first child.
"My dad missed out on all the important days of my life: the birth of my daughter, my wedding day, my graduation. He would have made all those wondrous days so much more wonderful with his wit, his humour and his love.
"Dad would have so enjoyed being a grandad to Chloe and would have enriched her life."
My sister Claire also lost another one close to her at Hillsborough, our cousin Stephen O'Neill, our 'Snod'.
He and my dad went to the game together. Stephen was 18 months older than Claire, but the two of them were best pals.
We miss Stephen today and often wonder what he would be doing now. He would have made a wonderful husband and a fantastic dad.
My brother John and my dad were extremely close. John still finds it hard to talk about Dad, but here are some of the things he told me:
"Dad was a very athletic man and hated smoking. He was very kind and very loving. He used to take me running and to football.
"He was an under-14s football coach and very popular with everybody. He used to take me to watch football games - he even took me to Wembley to watch Liverpool play Everton. We had such a great day.
'Wonderful father'
"My dad would take me and my cousins to the cinema, and they loved coming as Dad made the day full of fun.
"My dad also used to take me to work with him on occasion. He was a car mechanic and I loved to watch him repair cars.
"When he worked as an HGV driver, he would take me with him in his cab. I learnt my geography of the UK in my dad's cab as it took us all around the country."
I personally was just one year old when my dad died. My mum, my sister, Claire, my brother, John, and the family have told me about their memories, but it is not the same, is it?
I know that my dad was over the moon when I was born and people remind us that he would have been very proud of his children. The saddest thing for me is the fact that I have had to grow up without him and I have missed out on knowing him.
I know my dad was a wonderful father and a much-loved husband, a kind and thoughtful uncle and a sincere friend. How I wish I could have known him for myself. How different our lives could have been.
He was a great man. My dad and Stephen's loss has left a huge void in our family. They are loved and missed by many and I would like to take this opportunity to thank the coroner and the jury for listening today.