It's not just Farage who is afraid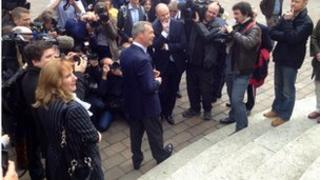 The welcome that UKIP's Nigel Farage got in Portsmouth was close to presidential. Seven or eight TV crews came from across Europe, along with dozens of photographers and correspondents.
It must have left him thinking he could walk on water.
But perhaps not win the Newark by-election.
He has been accused of being afraid, of ducking out of the fight in case he loses, just like his party did in Eastleigh. To which he can say "Do you want a one-man-band or not?" and talk of putting up a strong local candidate must worry the other parties.
One thing is certain - just the thought of Nigel Farage has the other parties worried.
Conservative cabinet minister Oliver Letwin is not easily daunted.
But he was due to be campaigning in Portsmouth on the same day as Nigel Farage last week and cancelled at the last minute.
He had travelled from Dorset to Hampshire, and could have made the long-planned event but decided not to risk a confrontation.
A sensible politician chooses his battles.