Hillsborough stories: Steven Joseph Robinson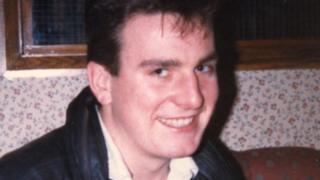 An auto electrician from Liverpool, Steven Robinson travelled on a coach to Hillsborough with several friends, who all survived the tragedy.
This is the full statement to the inquests from the Robinson family:
Background statement about Steven Joseph Robinson, read by Peter Robinson:
This first bit is on behalf of my mum and dad:
Steven Joseph Robinson was born 11 August, 1971, and was aged 17. Steven was born to Rose and Bernard Robinson and was the middle child of five.
He has an older sister and brother, Tracey and Paul, and a younger brother and sister, Peter and Claire.
Steven went to Sacred Heart High School in Crosby, Liverpool, and gained eight GCSE passes. From there he went to Riverside College, Liverpool, where he was studying for his Vehicle Maintenance and Repair (Auto-electrical) City and Guild, level 2 certificate.
After leaving school, he was employed by North West Buses in Bootle, Merseyside, as an apprentice auto-electrician. It was his ambition in the end to join the Merseyside Police.
He loved music and his favourite band of all time was The Human League.
His mum, Rose, and dad, Bernie, remember Steven as a typical boy, often in mischief but a real lovable rogue.
He was very handsome and funny and had a real wicked sense of humour. He loved his football, music and was a real card shark, particularly at poker, which my dad, Bernie, taught him to play when he was very young.
He was very popular with his friends and had a lovely girlfriend, Claire, who really doted on him.
He was very popular with both his mates from school and his work colleagues. He had lovely friends who still come to see us. They are all married now with children.
His ambition, as I said, was to join Merseyside Police, after he had fully qualified as an auto-electrician with North West Buses.
We miss him terribly and he is always in our thoughts.
Background statement about Steven Joseph Robinson, read by his sister, Tracey Robinson:
Hi, I'm Tracey, I'm big sis. We are actually all under instructions today from our mum to dress up smart, so I hope we are smart enough, Mum?
Our Steve, what can I say? I was seven when he came along. He was very charismatic from a very early age, very cheeky, big blue eyes and always had a lot to say.
He was very confident and a natural leader and he always led the way in the fashion department and only liked wearing things with designer labels on them - just ask Mum about the fake Lacoste t-shirt she bought him from Paddy's market.
It actually had two crocodiles on it instead of one, and he wouldn't wear it until my mum had cut the crocodile off the top so it was back to one again.
I found out about six months after Steve's death that he used to steal my MG Midget car and take it out for midnight trips around Crosby, probably with Claire in it, I would think.
When I asked him why the petrol was so low, he told me that he needed to siphon some out for Dad's lawnmower.
I would like to say a big thank you to our legal team for allowing us this opportunity to present our memories of Steve.
Background statement about Stephen Joseph Robinson read by his brother, Paul Robinson:
Steven was two years my junior. He was a real lad's lad and always acted a lot older than his age. He dressed immaculately, never had a hair out of place and was certainly no stranger to the mirror.
He modelled his cool look on a mix of the Fonz from the TV series 'Happy Days' and Danny from the film 'Grease'.
We grew up across the road from our local tennis club and I have great memories of playing tennis with him.
He was a terrible loser, but used to beat me regularly - even when he wasn't cheating, which was often.
He had a mad sense of humour, did some great comedy impressions and was never short of a joke, most of which were normally very rude. He was really into his music and loved going to watch live bands.
I remember going with him to see some great gigs in Liverpool, including The Human League, his ultimate favourite, The Smiths and Echo and the Bunnymen.
One of the songs that we associate with our Steve is 'Together in Electric Dreams' by Phil Oakey from The Human League. This was special to him and his girlfriend, Claire, and was played at his funeral. Our family and friends always think of him and smile whenever we hear the song played on the radio.
Background statement about Steven Joseph Robinson, read by his brother, Peter Robinson:
I'm Peter, as you know, Steven's younger brother. I always remember Steven as a real character growing up.
He used to regularly tease me, as older brothers do, and he wasn't really that into playing football until I started playing.
I've got fond memories of him training me as a goalkeeper on the front grass in the garden, although we had to watch for my dad before he came back from work, as we used to wreck the front grass, but it was like playing on Wembley, it was good.
He didn't really show his feelings too much, but he'd always surprise you on your birthday, or at Christmas and get you really something that he'd obviously spent months and weeks thinking about, and something that really mattered to you.
I was into football, obviously, and played a lot. For my 12th birthday, Steven got me the one present I had always wanted: he took me to Anfield in the Kop for my first ever live match. He also took me on a tour of Anfield later that year.
There is a picture that I still cherish of me and Steven by the 'This is Anfield' sign.
We all, as kids, had a great time growing up and Steven was a big part of that. I miss you.
Background statement about Steven Joseph Robinson, read by his sister, Claire Turpin:
I'm little sister. I was the youngest of five. I was only 12 when Steven died, so I don't maybe have as many memories, but the memories that I do have are just really fond memories, and usually quite funny, really, of Steven, because he was such a character.
My most precious, it might seem small to some people, but without fail, I'd wake up on a Saturday morning and Steven would put under my pillow, he'd put the girl's magazine 'Jackie' and a packet of Hubba Bubba, because he had a job in a newsagents.
I don't think I ever even told anybody that until after Hillsborough, but that was just the type of person Steven was. Even though he was horrible to me most of the time, that really showed me that he did love me.
My nickname for Steven was 'Gel Head', because I knew I'd always find him in front of the mirror. He'd just gel his hair to perfection.
I also have a really vivid memory of him picking me up from a youth club the night before the game. He'd just passed his driving test and he was with his girlfriend, Claire, and, because he'd just passed his test, he was happy to be, like, the family taxi driver, and took any excuse to get in the car.
I remember him picking me up and he was annoyed because he had to wait for me because the coach we were on was late and I remember him in the car, and he was so excited, and he was telling me, "Come on, hurry up, I've got to get to bed early because I've got the game tomorrow".
I remember thinking, "Why are you so excited? It's just a football game". He said, "I've got to drop Claire home and I've got to get ready and got to get all my clothes ready". He was just so excited.
I went to bed that night, and that was the last I ever saw him.