Care Quality Commission warning to ambulance service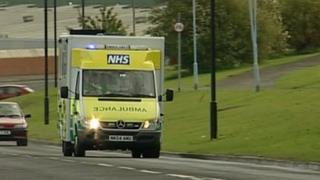 A health watchdog has warned the North East Ambulance Service that it needs to make improvements in a number of areas.
The Care Quality Commission (CQC) report found shortfalls relating to management of medicines, support of workers and monitoring the quality of the service it provides.
However, there was praise from patients about their interaction with staff.
The trust said the overall findings were disappointing but it was investing in strengthening the operation.
'Real concern'
CQC inspectors made unannounced visits to four ambulance stations and a contact centre.
They also spent time at three hospital sites and at one of the North East Ambulance Service NHS Foundation Trust's training centres, where they spoke to a number of patients and trust staff.
The report did find that patients experienced positive interactions with staff, and care and treatment were delivered to a high standard.
In addition, 97.4% of emergencies received an ambulance within 19 minutes, in excess of the national standard of 95%.
However, a formal warning was issued because disclosure and barring service checks (formerly criminal records bureau checks) had not been completed for all front-line staff.
'Wonderful and caring'
Julie Walton, from the CQC, said: "The issues we identified are a real concern and we have told the trust where further improvements must be made to ensure patients receive the service they are entitled to expect.
"We will return to check that the necessary changes have been made."
Simon Featherstone, NEAS chief executive, said: "The findings in this report are disappointing, but I am pleased that our staff have been recognised for the wonderful and caring job they do for our patients.
"We recognise that some of the issues highlighted in the inspectors' report require investment in front-line leadership, which is why we have taken the decision to plan a £1.7m deficit in our budget this year to invest in recruiting team leaders to support the front line."