RG8 homes to be compensated over smelly tap water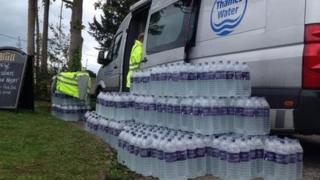 Residents who were left with smelly tap water for three days are to get compensation.
About 1,500 properties in the RG8 postcode in Pangbourne and Streatley, in Berkshire, and Moulsford, in Oxfordshire, were affected on 2 May.
Thames Water said all households affected would receive £100 within the next 10 days.
The firm said the smell was caused by a newly-repaired water pipe. The water was given the all clear on Sunday.
More than 20,000 litres of bottled water were handed out after the problem was discovered.