Devon and Cornwall beef farmers face falling prices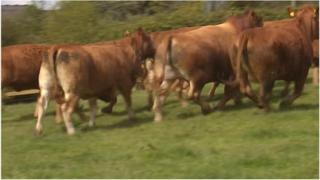 Falling prices for beef could force Devon and Cornwall farmers to cut the size of their herds by about 20%, say campaigners.
The National Beef Association said farmers, who look after about 950,000 cattle in the counties, were being squeezed by reduced profits.
The English Beef and Lamb Executive blamed more cattle being on the market and cheaper beef imports from Ireland.
It also said consumers were buying cuts of cheaper meat.
Devon farmer Bill Harper said he was working at a loss.
'Dire effect'
"We have dropped to these levels in the past few months and if it carries on we cannot continue producing beef," he said.
"We know what our costs are and it's unsustainable."
John Vastone of the National Beef Association said: "If this price carries on, probably 20% of producers in this area will stop producing beef.
"And that will have a dire effect on the countryside.
"Beef producers have kept the countryside in the state it's in now and are one of the main enterprises in this area."