Third kidney donation from family leaves man 'forever grateful'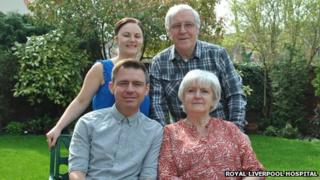 A 42-year-old man says he is "forever grateful" after his third kidney transplant in 16 years using an organ from a member of his family.
When Andy Knox, from Warrington, was diagnosed with renal failure in 1998 his mother, Teresa, donated.
Eight years later this kidney began to fail and his father, Freddie, gave one of his. Two weeks ago a kidney from his sister, Helen, was transplanted.
Mr Knox said: "It feels like I've been given four lives."
All three transplants were carried out at the Royal Liverpool University Hospital.
Mr Knox said that after surgery patients have to take drugs to stop the kidney being rejected, but these suppress the immune system, increasing the risk of infection.
'Fit and active'
"It is a fine balancing act, and I was just unlucky," he added.
His sister said: "Mum and dad are living proof that you can live a normal life with one kidney. Now we just want Andrew to get his life back on track."
Mr Knox took up tennis after his first transplant and after his second he captained the UK's tennis team at the World Transplant Games in Australia, winning two silver medals.
He is now co-ordinating the sport at this year's British Transplant Games in Bolton, from 7-9 August.
"[My family] can see that I am not taking it for granted by keeping myself fit and active," he said.
Abdul Hammad, a consultant transplant surgeon at the hospital said he has seen "many cases" where a person has two or even three transplants.
"But Andrew is the first we have treated who has been fortunate enough to find three matches in his own family - it is wonderful they were able to help him in this way," Mr Hammad added.
He said Mr Knox's success on the tennis court proves that having kidney transplants can help the patient achieve their goals and lead a normal life.