European elections 2014: South East to prove key battleground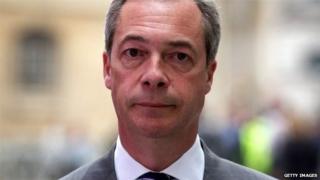 What happens in the south-east of England makes a real impact in Brussels.
The scourge of Euro-bureaucracy, Nigel Farage, was first elected here for the UK Independence Party (UKIP) in 1999.
Since then the party's share of the vote has risen to 19%, with two out of the 10 MEP seats in the region allocated to the party.
After the Eastleigh parliamentary by-election, Farage is making the running in this competition against all other contenders.
Could UKIP come top this time, and how many seats will that give them?
The South East can boast as much influence in the European Parliament as many small countries.
It is the UK's largest region in terms of electorate with a total population of more than 8,500,000.
Previously it has been traditional Conservative territory, the Tories returning 74 out of 83 MPs in 2010, although on a 49% share of the vote.
The European election is a classic demonstration of how proportional representation means the smaller parties - in this case Labour and the Green Party - continue to win seats.
The South East is home to the UK's only Green MP - Caroline Lucas - and its only Green council - in Brighton - and the place where the party won only their second British seat in the European Parliament.
In 2009 the Green Party's share rose by 4% to 12%. Liberal Democrats just pipped them to third place with two MEPs on a 14% share.
Labour votes are concentrated in Kent and under Ed Miliband the party is keen to put on a better show this time.
The big question is whose support and seats UKIP will take, if they make the advances many predict.