Virgin Money makes offer on Northern Rock Foundation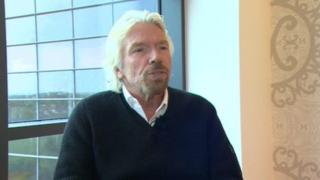 A charitable foundation expected to close could stay open after a change of heart from its main backer.
Virgin Money has offered to donate £1m a year to the Northern Rock Foundation - but only if a further £3m can be raised by other businesses.
Richard Branson's bank made the offer in a letter to Ed Miliband after he urged a rethink last week.
Foundation chairman Alistair Balls said the proposal was interesting. It will be discussed by the board on Tuesday.
It was announced last month the foundation would close after failing to agree funding with Mr Branson's bank, which bought Northern Rock in 2011.
The foundation was created in 1997 after the-then Northern Rock Building Society was demutualised. A percentage of Northern Rock's profits were used to support charities.
Virgin Money took over the arrangement and initially donated more than was required under the old agreement.
Following Mr Miliband's visit to Newcastle on Friday, Virgin Money chief executive Jayne-Anna Gadhia has written to him insisting the bank cannot commit to spend the full £4m required by the foundation, but insisted it took its social responsibilities "very seriously".
On a visit to Newcastle earlier, Mr Branson said there were 11 other companies in the region bigger than Virgin Money.
"If everyone can contribute something hopefully we can get to more than the £4m a year that's needed," he said.
Many of the other large firms in the North East already support their own charity projects.