Warwickshire College job losses 'inevitable' in £3m cut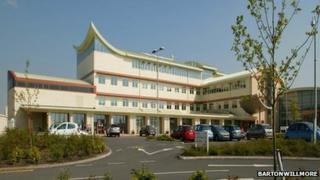 Job losses at a college in Warwickshire are "inevitable" as it looks to shave £3m from its budget.
One of the largest in the UK with a turnover of more than £50m, Warwickshire College said it had lost £10.5m in government funding.
Last autumn more people than ever enrolled and it now has more than 20,000 students in six sites.
The University and College Union warned against "knee-jerk reactions" that would lead to redundancies.
Warwickshire College's principal, Mariane Cavalli, told staff that "rapid and difficult choices" would need to be made and job losses were "inevitable and unavoidable".
She said that this year the £1.6m expected from the government had been cut to £600,000 and it had also lost £1m from previously funded adult courses.
Anne O'Sullivan, from the University and College Union, said: "We do accept colleges have funding difficulties at the moment... however what we don't want to see is colleges making knee-jerk reactions because all that will achieve is closing courses and losing jobs."
The union has asked for a meeting with the college, which employs more than 1,700 staff, to see if compulsory redundancies can be avoided.
The college offers more than 1,000 courses and includes the first equine college in Britain, a commercial day spa and a cider making plant.