Reading third Thames bridge traffic study concerns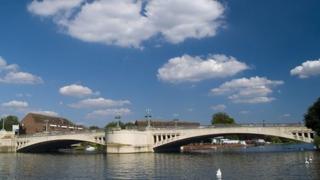 A council involved in a 40-year debate about a planned congestion-easing third Thames bridge in Reading, says it is concerned about the length and depth of a proposed traffic study.
Wokingham Borough Council, which will lead the study, plans to present its findings at the next summit in July.
Oxfordshire County Council would not detail its concerns but said it would view the results with "interest".
An online petition for a third bridge has so far attracted 4,500 signatures.
Wokingham Borough Council said the study was "the closest we've ever been to getting a third bridge".
In a statement, Oxfordshire County Council, said: "We are concerned about the depth and extent of the modelling proposed but will study the eventual results with interest."
All local authorities affected agreed at a Third Thames Bridge Summit to commission the study on the impact on traffic patterns, if there was to be a new bridge.
Keith Baker, from Wokingham Borough Council, had said the study should "ease concerns" Oxfordshire authorities have about the bridge bringing more traffic to its side of the Thames.