Tug crewman Steven Trice died in 'dangerous' tow attempt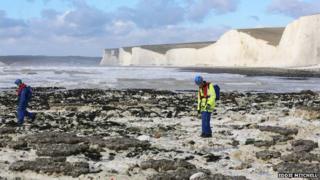 A tug crewman lost overboard off Beachy Head died in an "ill-considered" attempt to reconnect a towline to a stricken cruiser, investigators found.
Steven Trice, 55, was not wearing a lifejacket when he attempted to cross from the tug Endurance to the motor cruiser Sirius M on 5 February 2013.
The Marine Accident Investigation Branch (MAIB) said his skipper tried but failed to get him back on board,
The body of Mr Trice, from the Medway area of Kent, was found 11 weeks later.
It came ashore under the cliffs of Beachy Head, East Sussex.
Endurance was sailing from Dover to Brighton towing the 60ft motor cruiser when the line was lost.
Mr Trice's attempt to transfer between the two vessels in rough seas and darkness was extraordinarily dangerous, the MAIB said.
"It was a desperate and ill-considered measure brought about by the use of poor towing practices, a disregard of the weather forecasts and a lack of planning, risk assessment and emergency preparedness," its report said.
Two lifeboats and a coastguard helicopter searched for Mr Trice but the operation, begun at 00:39 GMT, was called off at 14:00 GMT.
The report said a number of factors contributed to the accident.
The investigation also identified that the certification process conducted by the International Institute of Marine Surveyors, which allowed Endurance to operate at sea, was not robust.
It also said weaknesses were identified in Medway Ports' compliance with the Port Marine Safety Code.
It added that action had been taken by all parties to ensure safety lessons were learnt.