Peter Carroll guilty of Norwich 1996 rape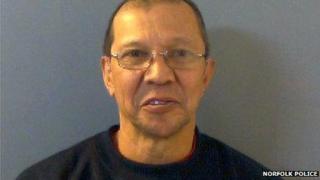 A man with a "deviant sexual obsession" has been found guilty of raping and attacking a woman 18 years ago after being identified from a scrap of DNA.
Peter Carroll, 55, choked a woman almost to death after picking her up while she was working as a prostitute in Norwich in 1996.
At Norwich Crown Court Carroll, of Aylesbury, denied rape and attempting to cause grievous bodily harm.
A jury earlier found him guilty after more than 12 hours of deliberation.
Judge Stephen Holt discharged the jury after they said they were unlikely to reach a verdict on a third count of attempted murder.
John Farmer, prosecuting, said the prosecution would not seek a retrial but asked that this count be left on file.
Carroll will be sentenced on 11 July.
'Under her fingernail'
The woman, who was 20 at the time and cannot be named for legal reasons, was left for dead but survived the brutal attack, Mr Farmer told the trial jury.
In her effort to fight off her attacker, a "small amount" of Carroll's skin became lodged under her fingernail, which was kept on file by police.
Years after the offence, Carroll, of Barnsbury Avenue in Aylesbury, who had previously lived in Beccles, Norfolk, where he worked as a Hotpoint engineer, was arrested and cautioned for an unrelated assault and a DNA sample was taken.
Last year police re-examining the case linked him to the 1996 offence.
Carroll had accepted he was responsible for the incident but claimed he acted in self defence after the woman attacked him.
Mr Farmer said Carroll had a "deviant sexual obsession" with the idea of having sex with a dead or unconscious woman.
He added that Carroll had been married three times and would speak openly about his use of prostitutes.