Kellingley and Thoresby Colliery closure delay plan suffers setback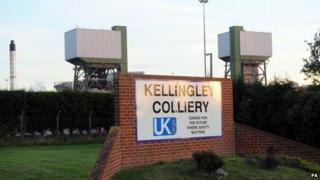 A £20m plan to delay the shutdown of two deep-pit coal mines has suffered a setback after one of its private backers pulled out of talks.
Hargreaves Services said it was no longer supporting the "managed closure" of Kellingley, in North Yorkshire, and Thoresby in Nottinghamshire.
The mining group had previously offered to provide a £5m secured loan.
UK Coal plans to close both pits with the loss of 1,300 jobs by the end of 2015 in a bid to avoid insolvency.
In a statement, Hargreaves said it has not been possible to secure a plan that it is able to support. It added: "In these circumstances the company is no longer able to provide loan finance and has now withdrawn from the process."
Chief executive Gordon Banham said: "It is with great regret that this announcement is made today.
"However we would like to recognise the help and efforts of the government, unions and other stakeholders including Harworth Estates, in trying to develop a plan that we could support."
The withdrawal of Hargreaves support has left workers at both pits unsure over their immediate future, though the National Union of Mineworkers has said it is considering an employee buyout at Kellingley.
A spokesman for the Department of Energy and Climate Change said it was "continuing to do everything it can to help", adding that the £10m it had pledged towards the managed closure "remains on the table".
If the two sites close in 2015, it will leave employee-owned Hatfield colliery in South Yorkshire as Britain's last remaining deep mine.