Jury out in football match-fixing trial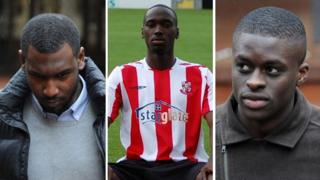 A jury has retired to consider its verdicts in the trial of five men accused of involvement in conspiracy to fix football matches.
Businessmen Chann Sankaran and Krishna Ganeshan are accused of acting with players Hakeem Adelakun, Moses Swaibu and Michael Boateng to commit bribery.
The Crown claims that the two Singapore nationals conspired with the former Conference South players between November 1 and 27.
All five men deny the charges.
The trial at Birmingham Crown Court has previously heard Mr Sankaran, 33, of Hawthorn Road, Hastings, East Sussex, and Mr Ganeshan, 44, of Hougang Avenue, Singapore, deny entering into a conspiracy in order to fix the outcome of matches.
They each face three alternatives charges of bribing footballers.
Moses Swaibu, 25, of Tooley Street in Bermondsey, and former Brighton-based Whitehawk FC footballers Michael Boateng, 22, of Davidson Road, Croydon and Hakeem Adelakun, 23, of Mayfield Crescent, Thornton Heath, all in south London, each deny conspiracy to commit bribery.
They also deny a separate alternative charge of bribery.