University of Liverpool waive 91-year-old's £4,500 library fine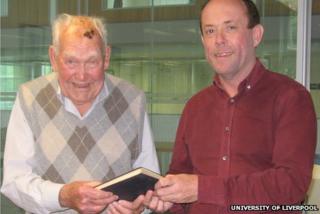 A 91-year-old man has been let off a library fine of £4,500 after returning a book 61 years late.
Ron Webster borrowed Professor AR Radcliffe-Brown's Structure and Function in Primitive Society from the University of Liverpool in 1953.
He forgot to return it when he moved to London and only recently found it while checking books at his Derbyshire home.
Librarian Phil Sykes said the fine was waived on condition that in future, Mr Webster "return all his books on time".
Mr Webster was a research assistant at the university at the time he borrowed the book, having previously studied there as a postgraduate.
He returned the book while taking a tour of the city with his son-in-law, Rick Walker.
'Exemplary life'
Mr Walker said the pensioner had been "warned firmly by friends at the pub he would be landed with an enormous fine".
Mr Sykes said staff had been "amazed" when the book was handed in.
"They called me and said 'you've got to come down - there's a gentleman trying to return a book he took out in 1953'.
"When I came down, they were sat with him having a cup of tea and a chat and I said 'I believe I've got a disciplinary issue to deal with'."
He talked to Mr Webster for an hour and "remitted the fine on the condition that he agreed, henceforth, to live an exemplary life and return all his books on time".
The £4,510 fine was calculated at the university's current late return rate of 20p a day.