Plymouth scientists use lasers to detect shifting sands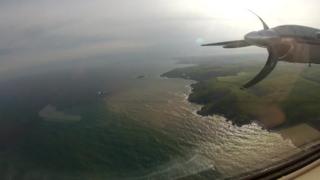 Scientists are testing lasers in an aerial survey of damage caused by winter storms to the South West seabed.
In the past, Plymouth Coastal Observatory has surveyed the shoreline by boat.
But it hopes the new technology will give them a more accurate picture of how sand on the seabed is shifting.
That will help engineers in the long-term battle to protect the coastline, parts of which were severely battered in the storms.
The plane flies about 400m (1,312ft) above the coast and a hydrographer uses lasers to map the seabed.
Hydrographer Sophie Nunn: "We have a red laser and a green laser. The red laser reflects from the surface and the green laser penetrates through to the bottom.
"You can use the difference between the two to work out how deep the water is."
The work has been commissioned by the South West Coastal Monitoring Programme, led by Teignbridge Council.
Emerald Siggery, coastal process scientist at Plymouth Coastal Observatory said: "It's really difficult to get a picture of the the seabed close in to shore on a boat.
"A survey by plane is safer, faster and more cost effective.
"The technology has become available so we decided to give it a go."
The scientists will be analysing the data to assess whether the method can be used in the long term.
Ms Siggery said: "We hope to see the seabed in a lot more detail than we have in the past and the effects of the storms we had at the beginning of the year.
"With one storm the seabed can change a massive amount.
"We also need to have a record of the seabed now so, if we get more storms, we can see how it has changed."