Surrey, London and Berkshire plan for Thames defences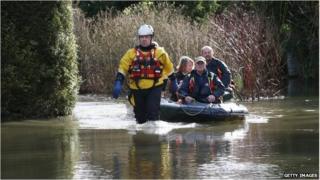 A business case is to be developed for a £256m flood defence scheme for part of the River Thames which was hit by severe floods this winter.
Seven councils in Surrey, London and Berkshire have said they will push the government for the defences.
Earlier this year, Prime Minister David Cameron said the scheme was "expensive" but was being looked at.
The floodplain includes 20,000 properties and infrastructure including the M25, rail links and power supplies.
'Protecting homes'
Surrey County Council, the three local authorities for Elmbridge, Spelthorne and Runnymede, the two London boroughs of Kingston and Richmond, and the Berkshire authority for Windsor and Maidenhead are all working on the business case.
They have said the scheme will protect riverside homes and businesses by building a flood channel and improving three weirs.
Leader of Surrey County Council David Hodge said: "We all want to protect our residents and local economy from flooding, so we hope that working together will get us government approval for this crucial scheme."
He said the councils would hand the business case to the government later this year.
In April, Mr Cameron told BBC Surrey: "We are looking very carefully at this flood alleviation scheme.
"It's an expensive scheme but what I've done is I've put distinct ministers in charge of co-ordinating the response in different parts of the country.
"Philip Hammond who is a local MP is responsible for this area of the country [and is] talking to all the local organisations and local councils and trying then to put together for the government the best recommendation of the things that we need to fund for the future."