'Unfit' boat repaired before sinking in Pacific race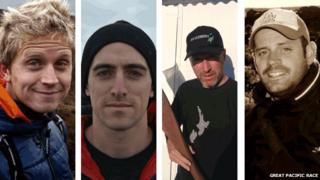 A boat that began sinking three days into a Pacific crossing underwent repairs before the race after its builder declared it unseaworthy.
The Pacific Rowers team fixed the vessel and race organisers passed it was seaworthy before it left.
The crew was airlifted off the sinking boat after leaving Monterey in California on Wednesday, about 100 miles from shore.
They were aiming to row 2,400 miles (3,862km) to Honolulu.
Sam Collins, 25, from Cornwall, Fraser Hart 34, from Tunbridge Wells, James White, 36, from London and Colin Parker, 36, from New Zealand were all rescued safe and well from the Great Pacific Race.
The crew said on the race website that, within a day, water was seeping through from a water maker hatch into the main cabin.
On Friday, with the boat sinking, they were airlifted off the vessel by US coastguards.
Devon-based boat builder Justin Adkin, 35, inspected the boat as a race scrutineer.
Mr Adkin built the Pacific Rowers' boat in 2003, after which it went through about five owners and a number of transatlantic crossings.
Safety 'paramount'
He said: "As soon as I saw it in Monterey Bay I said there's quite a lot of compartments that have been compromised by the work that has been done on this boat.
"From what I saw, someone who had never worked on ocean rowing boats before had cut holes in the floor and between bulkheads.
"I said, you're not fit to go to sea in its current state."
Mr Adkin, who had to return for the UK after checking the boat, said: "I took the lads and the boat round to a boatyard and gave the guy a brief on what needed to be done."
Race director Chris Martin said the repairs had been completed and checked by scrutineers.
"The work was excellent. We would never let a boat out with any sort of damage and being anything other than seaworthy," he said.
"The safety of our crews is absolutely paramount."
No-one from the crew was available for comment.