Tour de France Grand Depart diary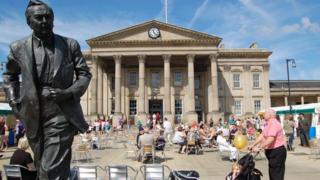 With the world's biggest bike race starting in Leeds on 5 July, BBC Yorkshire's Tour de France correspondent Matt Slater rounds up the best of the gossip, opinion and stories, on and off the bike, and also tries to explain some of cycling's unique lingo.
TOP STORIES
Do not let the stereotype of people who say what they like and like what they say put you off, they are a welcoming bunch in Yorkshire. They must be, they are even willing to change the names of their pubs to make you feel more at home. Otley's 19 pubs have translated their names into French for the Grand Depart period. Apparently, the West Yorkshire market town has previous in this regard, as they were all renamed "The Yorkshire Princess" when Kate Middleton married into the Windsor clan. I can see names like the Bar Du Nord (North Bar) and La Toison (The Fleece) sticking for a while, but I do not think Le Cheval et Marechal-ferrant (The Horse and Farrier) will linger.
Full story: The Guardian
In doing this gig I have learned that if I want common sense from Huddersfield I should look no further than the Andrew Jackson column. The Examiner's executive editor is in trenchant form today on the subject of Tour de France refuseniks. "What's yellow and annoying? No, not a budgie with an airhorn - I was actually thinking of some people's attitude towards the Tour." Jackson goes on to outline the pros and cons of staging the event, and hits the nail squarely on its tete when he says: "If it was somewhere else, we'd be moaning that we never get anything like this in Huddersfield. Well this time it's in Huddersfield."
Full story: Huddersfield Examiner
Having said how welcoming Yorkshire folk are, they do have limits. And I may be about to test those limits with the next item, but there is a spirit of fraternite in the air so I will try to sneak it past. Manchester's excellent Museum of Science and Industry - a family favourite of the diary's - is staging an exhibition called "Pedal Power" from 19 July to mark the 20 years of success British cycling has enjoyed since moving to the city's National Cycling Centre. It is free and you can be back in Yorkshire pretty sharpish afterwards.
Full story: MOSI
CYCLING ROUND-UP
Two more teams have confirmed their line-ups for Leeds, and they are both significant in their own way.
The first announcement came from the Dutch-based Belkin squad. The nine riders selected were all pretty much as expected - the Dutch duo Bauke Mollema and Laurens ten Dam will lead the team's general classification challenge, with Sep Vanmarcke perhaps fancying his chances on the cobbles of stage five - but the key issue for them is that they are riding under the pressure of needing to find a new title sponsor for next season. Or a new team.
After a few up-and-down seasons and numerous name changes, Trek Factory Racing's future seems much more stable these days and they have certainly gone for continuity in their team selection. Having taken the ever-so modern approach of naming the first six riders on twitter overnight, they announced the final three on Wednesday afternoon. Those three were Luxembourg's finest Andy and Frank Schleck, and the popular German Jens Voigt. Of the Schleck brothers, the younger Andy's selection is perhaps more controversial as he has been in such miserable form since finishing second behind Cadel Evans in the 2011 Tour. He had come second the two previous Tours, too, but inherited the 2010 win when Alberto Contador was banned for doping. This looks like a last chance to rediscover that form.
And for Voigt, well, this is his chance to say goodbye. The 42-year-old retires at the end of the season and this will be his 17th straight Tour, equalling the record. He will no doubt mark this feat by joining an early breakaway, and repeating this most days until Paris.
TWEET OF THE DAY
"Today is the day!! Tour de France or not! It will be decided today for my team, big meeting of our sports management."
Voigt sums up the mood of many professional riders at the moment as he waited for news: will he go to the ball or not?
TODAY'S TOUR TRIVIA
In honour of Voigt, let us pay tribute to those lone riders who have escaped up the road and avoided recapture - it does happen, just not very often. The longest solo break in Tour history belongs to Albert Bourlon. On a stage from Carcassone to Luchon in 1947, the Frenchman rode on his own for 253km, finishing more than 16 minutes clear of the next rider. That is not the biggest winning margin, though. That honour belongs to Spain's Jose-Luis Viejo, who beat the pack by nearly 23 minutes in 1976.
THE COUNTDOWN - 1O DAYS TO GO
Just 10 days then until British cyclists can start trying to move the UK up from its current 10th place on the national leaderboard for yellow jerseys. So far, British riders have been given a maillot jaune to wear 39 times, four fewer than riders from Denmark. With Mark Cavendish desperate to don yellow on the Tour's second stage this year, and Chris Froome favourite to end up in it, Denmark's lead looks vulnerable. But there is a big gap to Germany in eighth - their riders have won 71 yellow jerseys.