Tour de France Grand Depart diary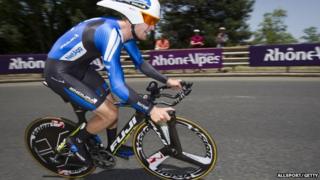 With the world's biggest bike race starting in Leeds on 5 July, BBC Yorkshire's Tour de France correspondent Matt Slater rounds up the best of the gossip, opinion and stories, on and off the bike, and also tries to explain some of cycling's unique lingo.
TOP STORIES
The diary is going to cheat today and put a cycling story in this section for the simple reason that it is a "top story", and it landed just as I was about to hit "send". The Anglo-German team NetApp-Endura has announced its Tour line-up and sadly there is no place for Burley-in-Wharfedale's Scott Thwaites. The 24-year-old was Yorkshire's best chance of having a home-grown rider on the start line in Leeds next weekend, but he has been listed as one of two substitutes by the team. Thwaites was always an outside shot for selection as he is better suited to hilly, one-day races as opposed to mountainous three-week ones. But he has made huge progress this season and can consider himself a little unlucky, particularly given the fact that his inclusion would have guaranteed the second-tier outfit a lot of pre-race publicity. Whilst browsing in a large cycling shop in the centre of Leeds this week, this writer noticed there were only two team replica shirts for sale: Team Sky's and NetApp-Endura's. The latter has just become a tough sell.
Full story: Team Netapp-Endura
He has lived in France, performed in France and is the ambassador for Eurostar, apparently, so it is entirely bon that Jarvis Cocker should be the next Yorkshire artist honoured by Stewy's stencils. A life-sized image of the Pulp frontman on a bike has appeared on a wall in Sheffield city centre, just as similar images of David Hockney, the Bronte sisters and Sylvia Plath have popped up in the Yorkshire spots with which they are associated. The in-no-way-just-like-Banksy-graffiti-artist also put up a cycling Alan Bennett on a wall in Leeds, only for it to be boarded up. Thankfully, BBC Leeds provided Stewy with a new wall for his Bennett to ride on.
Full story: The Star
Yorkshire's willingness to demonstrate just how excited it is about Le Tour with bunting, old bikes, avant-garde sculpture, enormous land art projects etc etc has been duly noted by the national and international media, but the region has gone one step further now. It is even using its children now. This is what assembly looks like at Rishworth School in Sowerby Bridge and Ilkley's Westville House School has been at it, too. Chapeau, as they say in France.
Full story: The Yorkshire Post
All this talk about bikes is clearly good for those in the bike-selling business, as York's paper of record reports today. It was not that long ago that many thought the internet would make bike shops extinct. That may still happen, of course, nothing lasts forever. But it is nice to hear that people still do appreciate the human touch.
Full story: The Press
CYCLING ROUND-UP
Sadly, Wednesday's biggest cycling story was Diego Ulissi's positive test for salbutamol. The asthma medication was in an inhaler the Lampre-Merida rider has been given permission to use, but a sample taken at last month's Giro d'Italia contained twice the permitted amount. Salbutamol's performance-enhancing effects have never been entirely proven but the drug has been used by bodybuilders for many years.
For a sport still struggling to convince the wider public it has cleaned its act up, the timing is lousy. It also does not help that the 24-year-old Italian won two stages at the Giro and finished second in a time trial. Salbutamol and cycling is a very old story.
On a happier note, David Millar let slip something most of us had assumed anyway: the Scottish veteran will be taking part in his 13th and final Tour this summer. This "revelation" came via the medium of twitter, and was soon followed by an apology to his boss at Garmin-Sharp that perhaps he should have let him announce the bit about going to Leeds. His Irish teammate Dan Martin, however, will not be at the Tour. He crashed out of the Giro d'Italia on its first stage and now fancies a crack at the Vuelta later this year.
Meanwhile, lots of teams are confirming their Tour line-ups. Among them is the well-resourced BMC Racing Team. We already knew 2011 Tour winner Cadel Evans and 2012 world champion Philippe Gilbert would not be going, so their selection was straightforward: American Tejay van Garderen plus eight solid pros capable of winning a stage or two. Whether Van Garderen is quite up for a real tilt at the general classification is another question.
The Russian-based Katusha Team is another of cycling's big-budget outfits, but its 2014 plans have been slightly messed up by Joaquim Rodriguez's crash at the Giro. The Spanish star has recovered from his injuries to ride the Tour, but not challenge for overall victory. His bosses hope he will get stronger as the race goes on and a stage win in the final week is the target. They, instead, will be led by Iurii Trofimov in the main battle, and Milan-San Remo winner Alexander Kristoff in the points competition.
Elsewhere, it is national championships week across Europe, with the British event taking place in Monmouthshire, South Wales. Today is the time trial, and it looks like a three-way fight between defending champion Alex Dowsett and the Team Sky duo Sir Bradley Wiggins and Geraint Thomas. It is a 26-mile course, with Thomas starting at 1954, Wiggins at 1958 and Dowsett going last at 2000.
The winner will get to wear the distinctive British champion's jersey (white, with red and blue bands across the middle) for a year. It is a shirt Mark Cavendish has worn with pride after his victory in the 2013 road race championships, but he will not be defending his title on Sunday. He suffered with bronchitis during last week's Tour of Switzerland and is taking no chances with his health ahead of the Tour.
TWEET OF THE DAY
"We should all think about our impact on the environment. E.g. Dropping gel wrappers is unacceptable at any level."
You could argue that on the day another rider tests positive for a controlled substance the president of the International Cycling Union should have other things on his mind than litter. But the diary agrees with @BrianCooksonUCI - you've got three pockets in a cycling jersey, use them.
THE COUNTDOWN - 9 DAYS TO GO
Perhaps a bit random this one, but bear with me, it is relevant. The London-born Aussie Phil Anderson wore the yellow jersey for nine days during his 13 cracks at Le Tour, and he should always be remembered for his first day in yellow in 1981 because that was the first time a non-European had done it. Anderson never improved on the fifth-place finish he managed twice in his early attempts at the race, but he did help pave the way for the next generation of New World riders.