Why Zombie live experiences are proving big business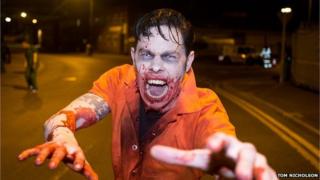 From Hollywood movies to video games, the past few years have seen increasing numbers of titles based on zombie apocalypses. The subject's popularity is now going beyond the screen and on to the streets of the UK - but why would anyone want to spend their time pretending to fight the undead?
The transit van screeches to a halt and I jump out followed by 11 other "foot soldiers", fully clad in police riot gear with batons strapped to our belts.
I am finding it hard to grip a paintball gun because my hands are shaking and my palms are sweaty.
And then I see them - the undead - tearing towards me, teeth bared and blood dripping off their chins. It is time to fight for my life.
But this is not the start of the zombie apocalypse, it is an industrial estate in Worcestershire and I am taking part in a Zombie Boot Camp.
It is not for the faint hearted. At one stage I am rugby tackled from behind on to some sand bags by a 15st zombie, who is actually a trained soldier.
He pins me down, snarling and spitting blood on to my riot helmet visor until I am rescued by two of my team-mates who mercilessly beat him with plastic batons.
Ram Training, which runs the event, is just one of a number of organisations across the country which will take your money for the privilege of you being attacked by zombies in forests, shopping centres and city streets.
In the past month, BBC Three has announced a reality TV show based on the same concept. Learning to battle and survive the undead is big business.
More than 24,000 people have taken part in the boot camp in the past two-and-a-half years. But why?
"They've all done four hours of military training and fought zombies face to face so in the event of a zombie holocaust we know there are thousands of people out there who can get stuck in," jokes Major Roy Fitter, the Army reservist who set the course up.
He said he began the zombie boot camp in 2011 as a side project to his business teaching civilian combat courses and is looking to employ more staff to keep up with demand.
All of his volunteers are militarily trained and double up as both instructors and zombies.
Maj Fitter said the event's popularity built on the success of TV shows and video games like The Walking Dead and The Last of Us.
"People want to get out of their seats and beyond the screen - it's the element of believability," he said.
"It's the, 'I've got real army kit on, the place looks like a battleground, the guy who is teaching me battle tactics is military', then you're straight in there, you're sweating, it's violent and you get lost in it."
Student Andy Bright and office worker Claire Smith have both completed the training in Worcester.
"Nothing compares to the buzz you get from it because you're so scared and when the instincts to fight back kick in, it's intense," says Mr Bright.
"I'd read the Max Brooks books [World War Z, the Zombie Survival Guide] and although this is seen as a bit of fun, it is best to be prepared just in case."
Ms Smith, a self-confessed "adrenaline junkie", said she was also in it for the fear factor.
"Being attacked by zombies is better than any scary movie because you're in the middle of the action and you can feel your heart pounding," she says.
"This was also a chance to show the men that we could survive as well as them."
But it's not just in Worcestershire where the dead are coming back to life.
Deep in a forest near Pontypridd, south Wales, Dom Spens leads 50 people in the art of essential bushcraft, foraging and survival skills every weekend.
Once darkness falls, the undead attack and people have to use those skills to escape.
And while most people might put an apocalypse survival strategy low on their to-do lists, Mr Spens says there are some who have given it some thought.
"More people have a plan to get through a zombie apocalypse than you may think, and if they don't already they definitely leave here with one or spend the following weeks putting one together," he said.
"The concept of modern zombies are biological, a virus or pandemic affecting the human race.
"Add to that the current uncertainty over world economies and fossil fuels and people are worried and are looking at preparation and stockpiling for surviving," he claims.
Another organisation taking a big bite of the undead market is Bristol-based Slingshot, which has an annual turnover of £800,000.
Its 2.8 Hours Later game, where people are chased by zombies through mainly industrial areas of cities including London, Glasgow, Birmingham and Manchester, sells 20,000 tickets a year; 10 times the amount it sold when it began in 2008.
The game differs from Zombie Boot Camp because it is strictly non-contact and is effectively a game of tag.
"I think you probably need to be a bit sick in the head to want to frighten people but zombies are the ones who have the most fun," said Stevie Douglas, who has worked as Cuddles the zombie for Slingshot for three years.
"You get two types of people, those who laugh their way round it and others who are absolutely terrified. I've actually had people crying, which I'm quite proud of.
"I'm not that quick so I tend to try and get inside their heads, staring them down, stalking them. Essentially, it's acting but with groans without words."
Co-founder Simon Johnson said the firm's popularity had grown because its audience had changed from "niche horror and gaming fans" to a more mainstream one.
"It's difficult to know whether it's organic or the fact we're able to spend more on PR and marketing but it's still mainly 18 to 35-year-olds and a 50-50 split between men and women," he said.
"They're in that generation where video games have an equivalent cultural worth to a film and even more than a piece of theatre or a book.
"Play has become a normalised activity and you're now allowed to go out and play games as an adult."
But whether people are playing for fun or actually planning their undead invasion strategy, the business clearly is alive and kicking.