Ben Blakeley 'buried Jayden Parkinson's body twice'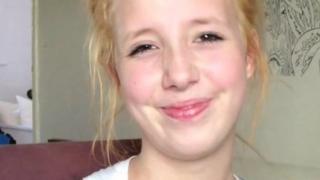 A man has told a court how he buried his ex-girlfriend's body under a tree before digging up the remains and burying them in his uncle's grave.
Ben Blakeley, 22, from Reading, denies murdering 17-year-old Jayden Parkinson in December, but admits manslaughter.
Oxford Crown Court heard that Mr Blakeley thought Jayden was "joking" when she fell to the ground as he strangled her in a field near Didcot.
Her body was discovered in a disturbed grave at All Saints' Church, Didcot.
A 17-year-old boy, who cannot be named for legal reasons, has admitted perverting the course of justice but denies preventing the lawful burial of Jayden.
'Sick and twisted'
Mr Blakeley, of Christchurch Road, told the court he returned to the field with the teenager to dig a hole to bury Jayden's body, although he told him they were burying weapons.
He then returned alone days later to exhume the remains and took them in a suitcase to All Saints' Church where he and the youth dug into the grave of Alan Kennedy.
Mr Blakeley, who swore a number of times throughout his testimony, said: "I couldn't leave her there... I know it seems sick and twisted but I thought it would makes thing better.
"I didn't want her in a... field, I couldn't handle it."
Richard Benson QC, defending Mr Blakeley, asked him: "What sort of place did you want her to be finally laid to rest?"
The defendant said: "A proper place."
Mr Blakeley told the court his co-defendant knew "nothing" and, although he helped him dig both graves, he had sent him away when it came to burying Jayden's body.
Pressure to the neck
On Thursday, the court heard how Mr Blakeley had suffered abuse at the hands of his father before being taken into care at the age of 11.
Before beginning his testimony, he asked for the suitcase in which he transported Jayden's body to be removed from in front of the witness box.
He said he had not intended to kill Jayden and thought she was "joking" before he realised she was dead.
Jayden was last seen on 3 December when she met Mr Blakeley to discuss her pregnancy.
Her body was found 15 days later. A post-mortem examination revealed she died from pressure to the neck.
The trial continues.