Vauxhall announces 550 new jobs in Ellesmere Port and Luton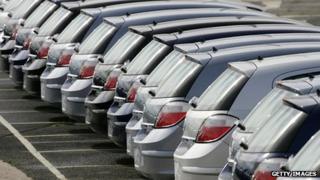 Car manufacturer Vauxhall has announced the creation of 550 new jobs at two factories.
About 300 new positions will be secured at the firm's plant in Ellesmere Port, Cheshire, ahead of production of a new Astra model.
Meanwhile, a second shift will be added at the van facility in Luton, Bedfordshire, creating 250 jobs.
Vauxhall said the jobs marked the car giant's "first significant hire programme for a decade".
The announcement comes two years after the Ellesmere Port plant won a £125 million contract to build the next generation Astra.
The site in Luton builds the recently-launched Vivaro van and will be taking on new employees to increase output.
Tim Tozer, Vauxhall's chairman and managing director, said: "This is great news for Vauxhall and for British manufacturing.
"Both of our UK manufacturing plants have won long contracts with all-new products and as the business strengthens, we now need to take on more people to build these exciting new Vauxhalls."
The jobs will be phased in from the start of next year.